Description
It adopts a dual DSP high-performance digital signal processor and supports accurate 450MHz/40-bit floating point operation, 24bit/48KHz high-performance ADC/DAC, and 114dBtyp. dynamic range.
Feature
Input: including 16 channels of Mic/Line full numerical control gain analog pre-processing (XLR female plug and ¼" TRS combined input interface), 2 channels of stereo input, and 1 channel of USB Media (U disk broadcasting or Bluetooth audio) stereo.
Output: including 8 AUX output interfaces, 4 MTRX interfaces, 1 stereo Main L/R output interface, (all XLR male plug interfaces, differential balanced output), 1 USB stereo recording interface, and 1 stereo monitoring interface.
All Mic / Line input channels adopt professional-level high-quality speech amplifiers: high dynamics, low distortion, and full CNC 63-level analog gain, which can easily meet the requirements and achieve good signal matching.
All Mic / Line input channels can be configured: 48V phantom power, polarity switching (Pol.), noise gate (Gate), compressor (Comp), four-band parametric frequency equalization (PEQ) / with high and low shelf filter, high-pass filter (HPF), low-pass filter (LPF).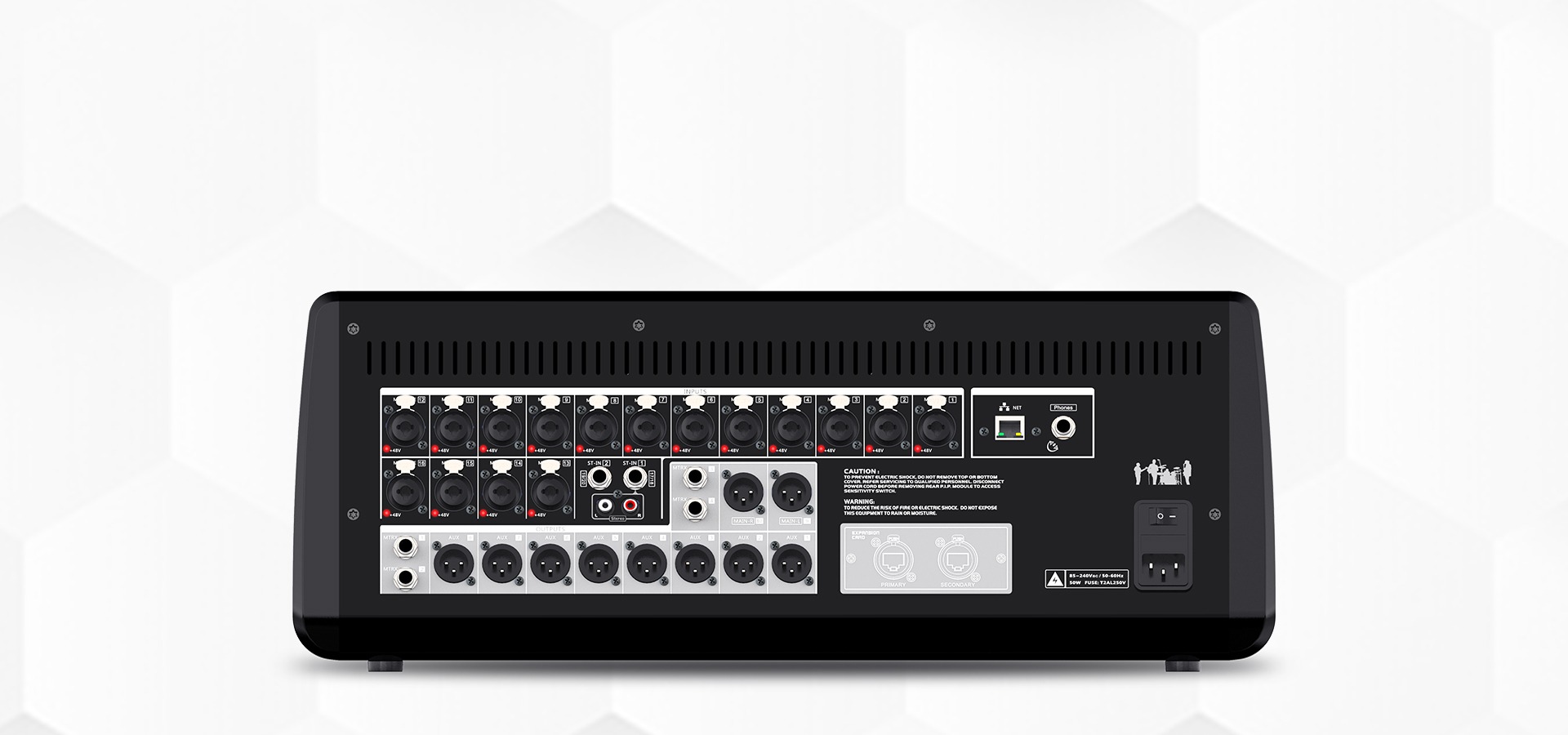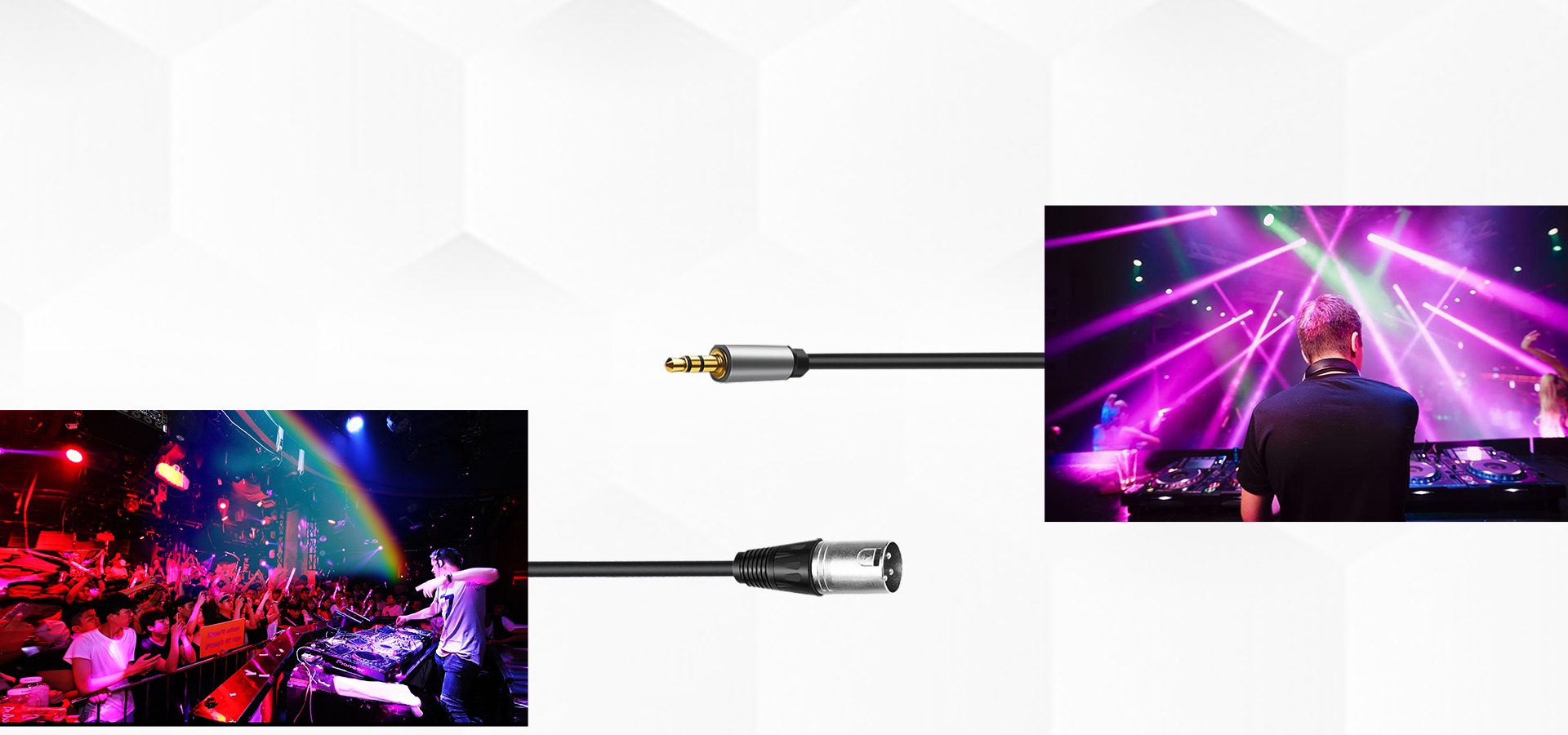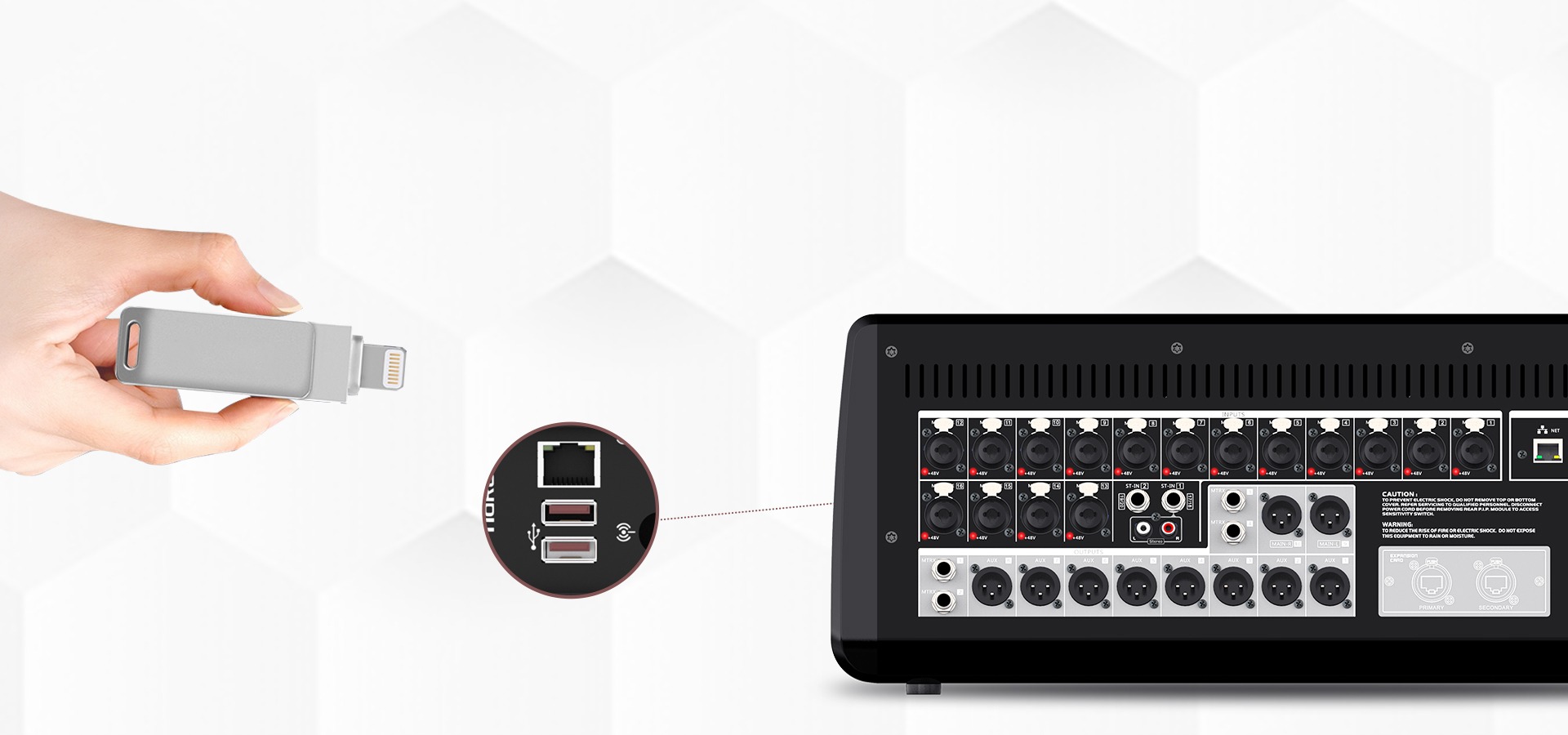 Product Detail
| | |
| --- | --- |
| Main screen |  6.1″ x 3.5″ (156mm x 90mm), 7″ HD color TFT LCD screen,  capacitive touch screen, support 800*480 resolution |
| Channel guide screen | 1.44″ color TFT LCD screen, 13Pcs |
| Flashlight | One-piece built-in, LED true color, optional 9 colors, adjustable brightness |
| Fader | 100mm electric intelligent control,  accuracy = 1024 gears, +10dB to -60dB /-∞All electric fader |
| Audio input | 16 Mic / Line (XLR / TRS composite balanced interface), 2 stereo LineIN (TRS balanced interface), 1 stereo USB disk or Bluetooth playback |
| Audio output | 8 MIX bus output (XLR balanced interface) 4 MTRX bus output (1/4″ TRS balanced interface) 1 stereo Main-Out L/R (XLR balanced interface) 1 stereo USB disk recording 1 stereo monitoring (1/4″ TRS stereo jack, 16Ω minimum impedance earphone) |
| Input channel processing | Numerically controlled analog gain adjustment Gain, polarity adjustment,  pre-fader/post-fader and other 4-position audio source selection,  4-band parametric equalization (PEQ), high-pass filter, low-pass filter,  noise gate, compressor |
| Output channel processing | 15-band graphic equalizer (GEQ), high-pass and low-pass filters,  4-band parametric equalization (PEQ), compressor, delay (500ms maximum |
| Recording function | Stereo dual-channel recording, select a group of 5 stereo bus outputs of  Main-L/R and MIX1/MIX2, MIX3/MIX4, MIX5/MIX6, MIX7/MIX8  as the recording source |
| Group | 12 DCA groups (with mute), 8 Mute Groups |
| Effect | 4 professional effectors: Chorus, Echo, Flanger, Pitch-shift, Reverb,  Stereo Delay, a total of six types of effect processing, 60 factory presets  (FX Presets), convenient and easy-to-use user presets |
| Presets | Mixer presets: factory and user preset include all mixer parameters;  stored or uploaded to the mixer internally and from a USB flash drive. Channel presets: User channel presets can be stored or uploaded to  the mixer internally and from a USB flash drive |
| Scene mode | 6 scene shortcut keys: save, delete, invoke, export and import scenes |
| Wi-Fi | USB Wi-Fi adapter is included. |
| Bluetooth | The USB Bluetooth adapter is included. |
| Sampling frequency / quantization bit | 48kHz / 24bit |
| Signal delay | Less than 3.3 milliseconds, from any input to output |
| Frequency response FR | +/- 0.1dB (20 Hz ~ 20 kHz@+4dBu input, differential balanced input/output,  from MIC/Line input to AUX output, input gain=0dB, other level gain=0dB) |
| THD+N | Less than 0.03% (20 Hz ~ 20 kHz@+4dBu input, differential balanced input/ output, from MIC/Line input to AUX output, input gain=0dB, other level gain=0dB) Less than 0.009% (1 kHz@+4dBu input, differential balanced input/output,  from MIC/Line input to AUX output, input gain=0dB, other level gain=0dB |
| SNR | Better than 95dB (differential balanced input/output, from MIC/Line input to  AUX output, input gain=0dB, other level gain=0dB, input level makes the device  reach the maximum output without distortion) |
| Equivalent input noise | -125dBu typ. (Differential balanced input/output, from MIC/Line input to  AUX output, input gain=Max, other level gain=0dB) |
| Redundant output noise | -90dBu type. (Differential balanced input/output, from MIC/Line input to  AUX output, all input gain=Min, other level gain=0dB, no signal input state) |
| Dynamic Range DR | 114dB type., DA converter Better than 97dB (differential balanced input/output, from MIC/Line input  to AUX output, input gain=Min, other level gain=0dB, input level makes the  device reach the maximum output without distortion) |
| Crosstalk@1kHz | Better than -110dB (differential balanced input/output, from adjacent MIC/ Line input to adjacent AUX output, input gain=0dB, other level gain=0dB,  input level makes the device reach the maximum output without distortion) |
| Working voltage and power consumption | 85Vac ~ 240Vac, 50 ~ 60 Hz, 50WMAX |
| Working temperature | 0℃ to 40℃ |
| Size (L×W×H) | 550mm×553mm×206mm |
| Net weight | 6.3kg |
itc Headquater

Building NO. A13-1, Yiku Industrial Park, The Hills, Dongyi Road, Panyu District, Guangzhou, China 511492

itc Factory

NO.19 Chuangyuan Road Zhongcun Town, Panyu District, Guangzhou, China

Email itc

Call itc