Description
The new fully automatic eight-position audio and video recording equipment adopts integrated hardware design, embedded Linux operating system, highly integrated image acquisition, recognition and tracking, recording, automatic broadcast, live broadcast, on-demand and other system modules, meeting the needs of conference recording, training and learning, interactive teaching, etc.
Feature
An integrated hardware device, embedded Linux OS, highly integrated system module such as image recognition tracking, automatic navigation, live, VOD, acquisition, and recording, easy to use and maintain, with high security.
Based on the B/S architecture, you can log in to the web to realize functions such as live broadcast management, signal management, group management, user management, file management, scheduled recording, central control management, and system management.
Audio adopts AAC high-definition encoding method, and the audio and video are accurately and synchronously recorded.
Video adopts H.264 encoding method with adjustable bit rate; support video encoding from 256kbps to 12Mbps, and supports resolutions such as 1920×1080.
The most advanced tracking algorithm is used to detect the vertical movement tracking of face, and ignore other activities of the students; the accuracy rate reaches more than 90% to intelligently present classroom focus.
Accurately track students of low age and large height differences without installation of auxiliary tracking and analysis cameras, and support self-adaption of the height of students in different classes.
The recording and broadcasting controller has an encryption algorithm to ensure that the copyrighted machine needs to be activated to have the right to use and to support the authorized use date.
The controller has built-in shortcut keys and supports one-key recording, stopping, live broadcast and copying of recorded files.
With 2.2-inch LCD screen, to display system hard disk space, version number and recording status, IP address and other device information.
The controller comes with 2TB storage space, and the recording content can be stored for up to 2000 class hours; Supports frequent use of the device for more than one year; supports automatic deletion of old files and loop recording.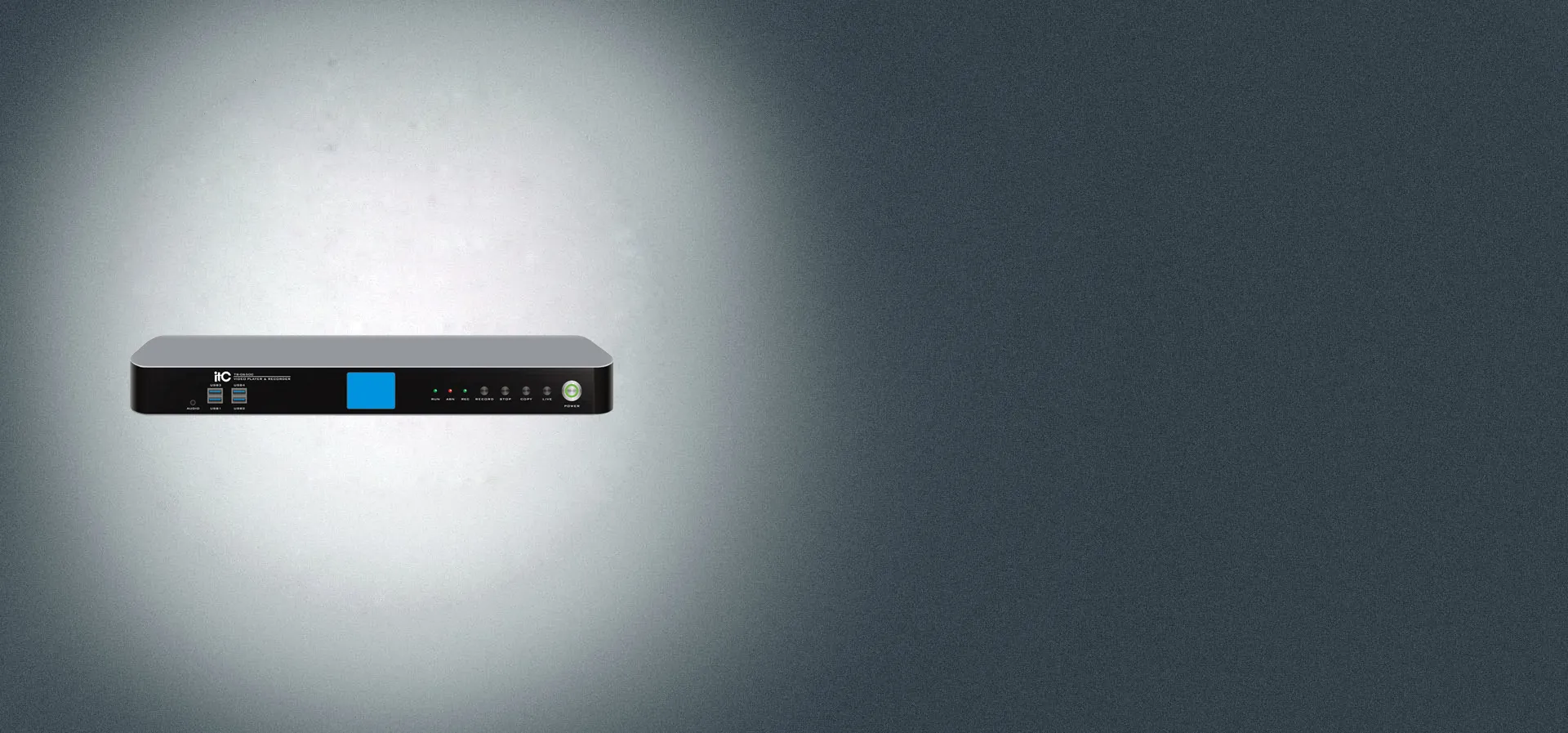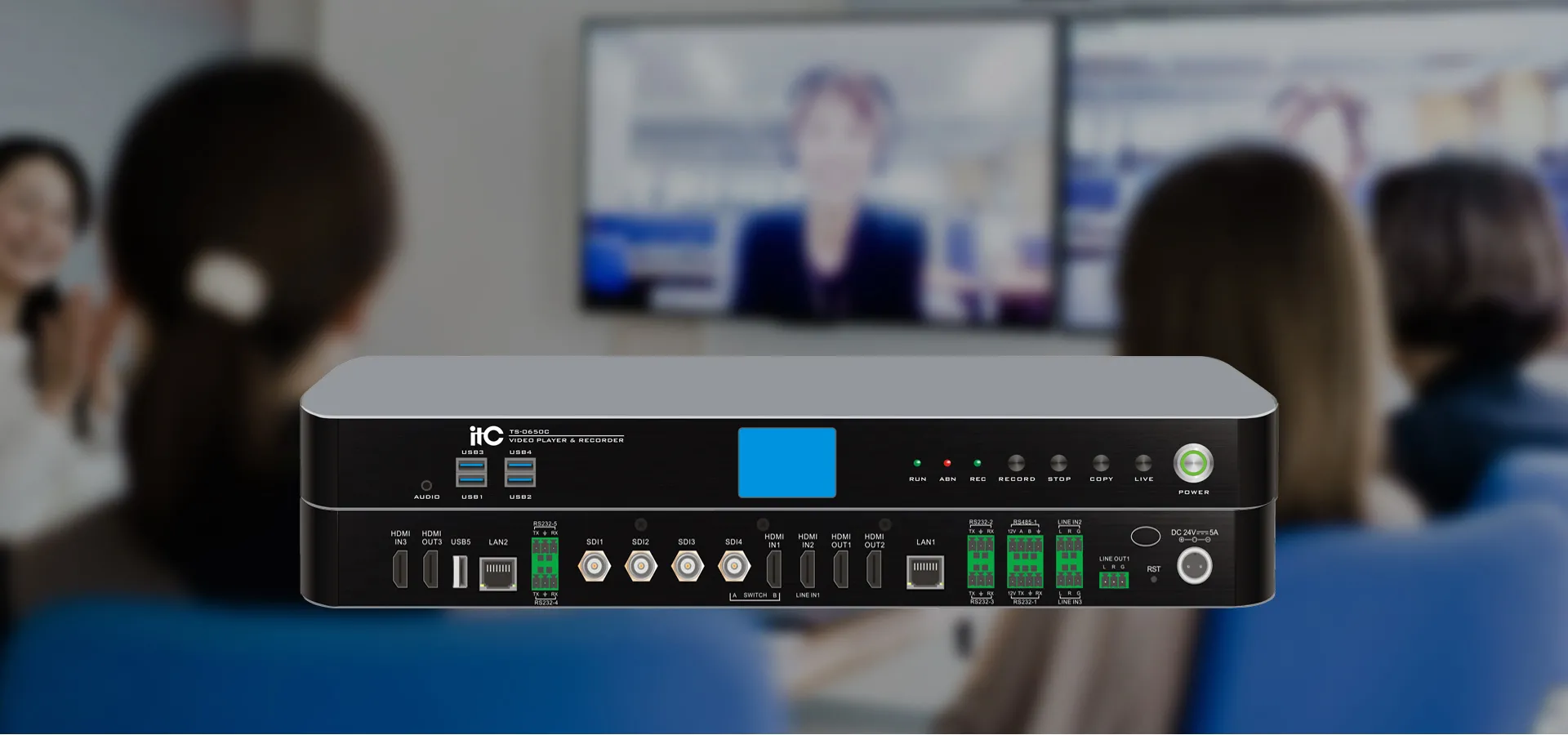 Product Detail
| | |
| --- | --- |
| Video protocol | H.264 |
| Code stream | 256Kbps~12Mbps |
| Video output format | MP4/MOV/MKV/FLV/AVI/TS |
| Audio protocol | AAC |
| Live broadcast protocol | Support TS, RTSP, RTP and RTMP real-time protocol streams |
| Network protocol | Support TCP, UDP, RTMP, RTSP, FTP, DHCP, HTTP protocol |
| Video input interface | 4-channel SDI high-definition video interfaceS, 3-channel HDMI high-definition video interfaces |
| Video output interface | 3-channel HDMI high-definition video interfaces |
| Input resolution | 3840x2160P30fp, 1920x1080P60/P50/I60/I50/P30/P25fps |
| Output resolution | 3840x2160P30fp, 1920x1080P60/P50/P30/P25fps, 1280x720P60/P50/P30/P25fps, 720X576P60/P50/P30/P25fps |
| Audio input interface | 2-channel Phoenix terminal interfaces, 1-channel HDMI audio interface |
| Audio output interface | 1-channel Phoenix terminal interface, 1-channel 3.5mm audio interface, 1-channel HDMI audio interface |
| Network port | 2-channel Gigabit Ethernet ports |
| USB interface | 5-channel USB 2.0 interfaces |
| Control port | 4-channel RS-232 interfaces, 1-channel RS-485 interface |
| Panel button | 1×switch button, 4×function buttons |
| Indicator light | 3×LED indicators |
| Storage | 2TB |
| Power supply | DC 24V/5A |
| Power consumption | 45W |
| Weight | 2.25kg |
| Size | 440×295×53.8mm (L×D×H) |
| Operating temperature | -10°C~55°C (Well-ventilated ambient temperature) |
| Operating humidity | 20%~80% relative humidity, no condensation |
itc Headquater

Building NO. A13-1, Yiku Industrial Park, The Hills, Dongyi Road, Panyu District, Guangzhou, China 511492

itc Factory

NO.19 Chuangyuan Road Zhongcun Town, Panyu District, Guangzhou, China

Email itc

Call itc