Description
The itcHUB Intelligent Conference Flat Panel focuses on small and medium-sized conference room scenarios, creating a small conference center.The flat panel integrates functions such as high-definition display, digital whiteboard, 4K camera, array microphone, intelligent central control and high-quality audio; Equipped with Windows 10 IoT system, it meets the needs of conference presentation, writing, interaction, collaboration, sharing, video, data security, environment monitoring and control and other needs, covering the entire process of the meeting.
Feature
75/ 86/ 98 inch DLED LCD display with 4K Ultra HD display, narrow frame design, support USB multimedia file playback.
Built-in 1200W pixel high-definition camera and 8 array microphones, the sound pickup distance is up to 10m, supports automatic noise reduction, automatic gain, echo cancellation, and sound source localization.
Equipped with 2.2-channel professional audio, 5 scene sound effects optional: standard, conference, human voice, music, cinema.
High-precision touch, support 1.6mm fine recognition.
Support Type-C full-featured interface to realize screen projection, reverse control, audio and video signal transmission functions.
HDMI supports 4K 60Hz loop-through output; DP supports 4K 60Hz input.
The screen and screen protection layer adopts zero bonding technology to effectively prevent light reflection.
Support anti-glare, using AG tempered glass to reduce ambient light interference, screen reflection and glare damage to the eye.
Support hardware-level anti-blue light, filter and reduce harmful high-energy short-wave blue light, long-term viewing without fatigue.
Support 85% high color gamut for clearer images, more vivid colors and more saturated colors.
The camera array microphone is a detachable module, designed with a 12pogo pin magnetic interface, without separate wiring, and physical protection is used to prevent the possibility of conference information leakage.
Support a variety of wake-up methods: voice, keep watching, double-click the touch screen, and button method. The watch wake-up method can be customized to set the watch time.
Support the wake-up function by lifting the pen; support quick use of the whiteboard and annotation functions by lifting the pen.
With voice assistant auxiliary function, support the operation of main functions by voice assistants, such as start meeting, end meeting, rest screen, shutdown and other operations.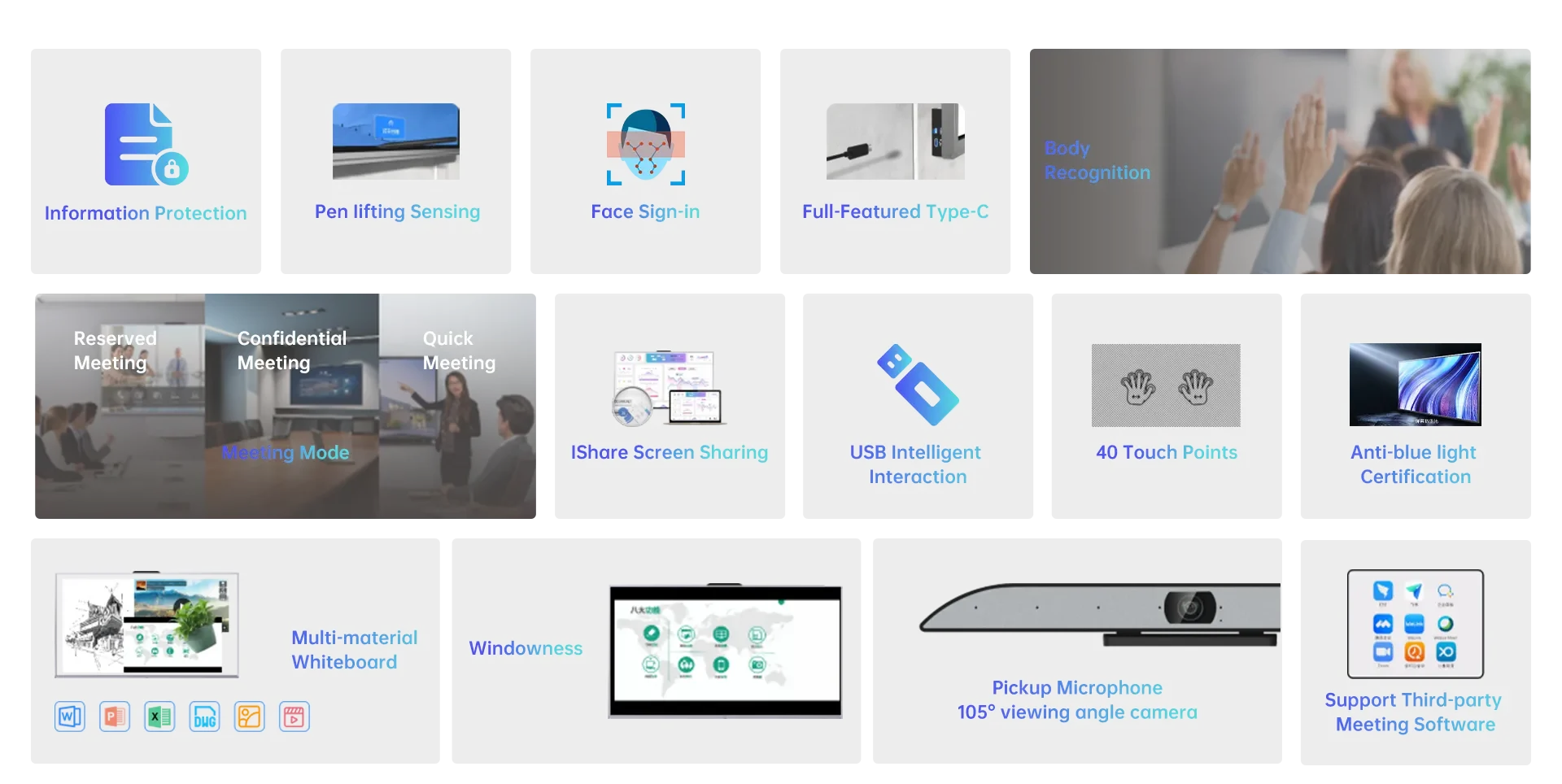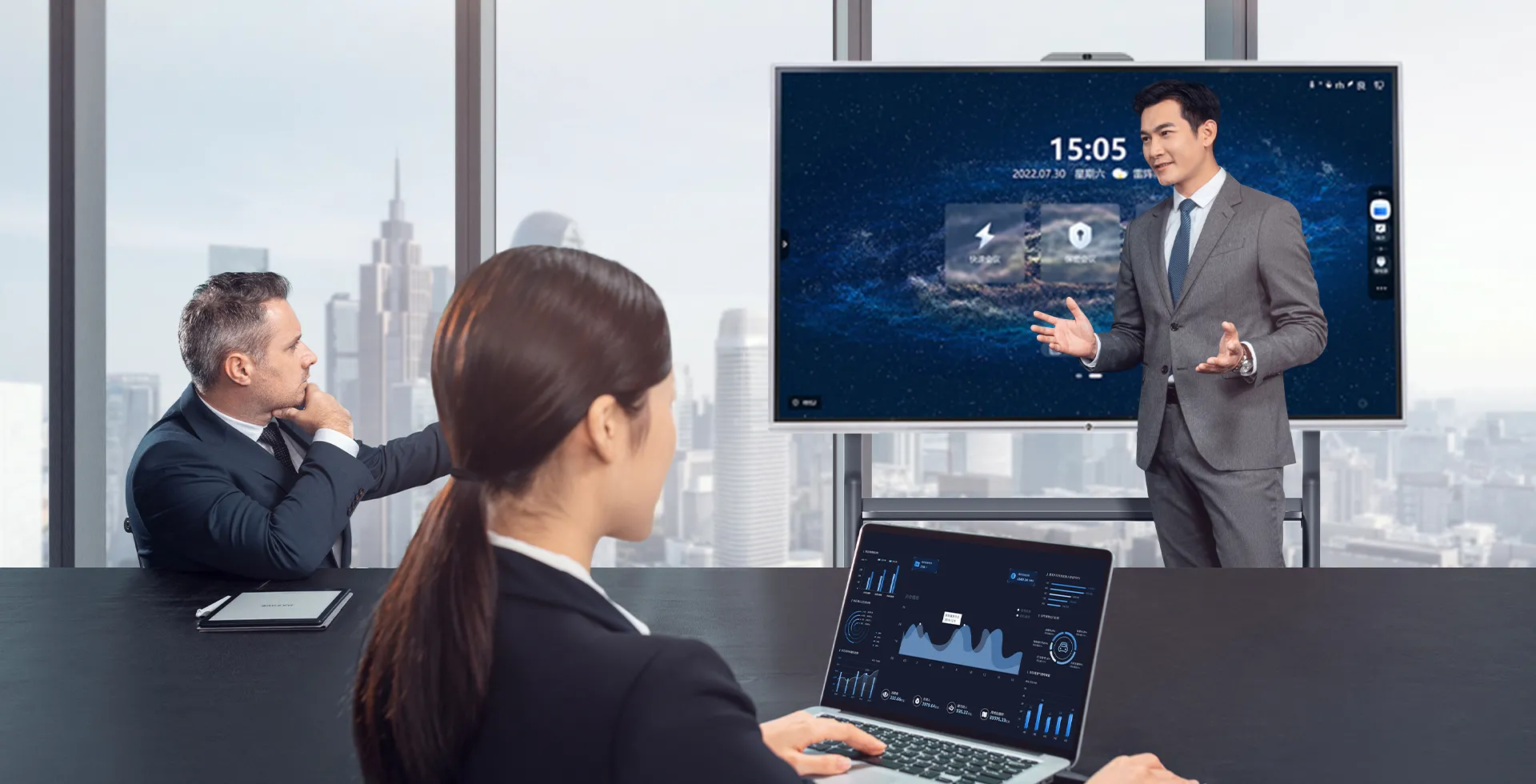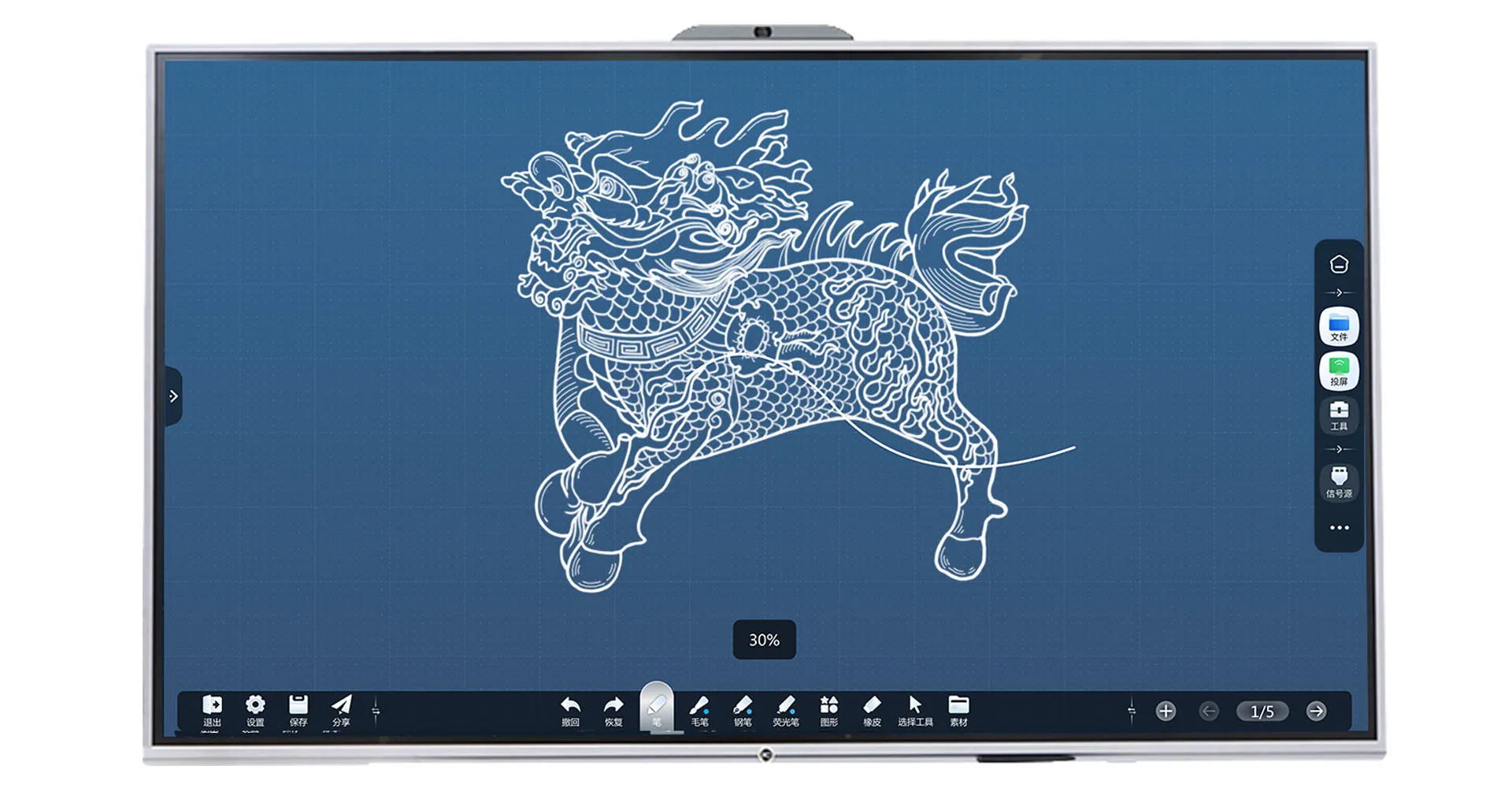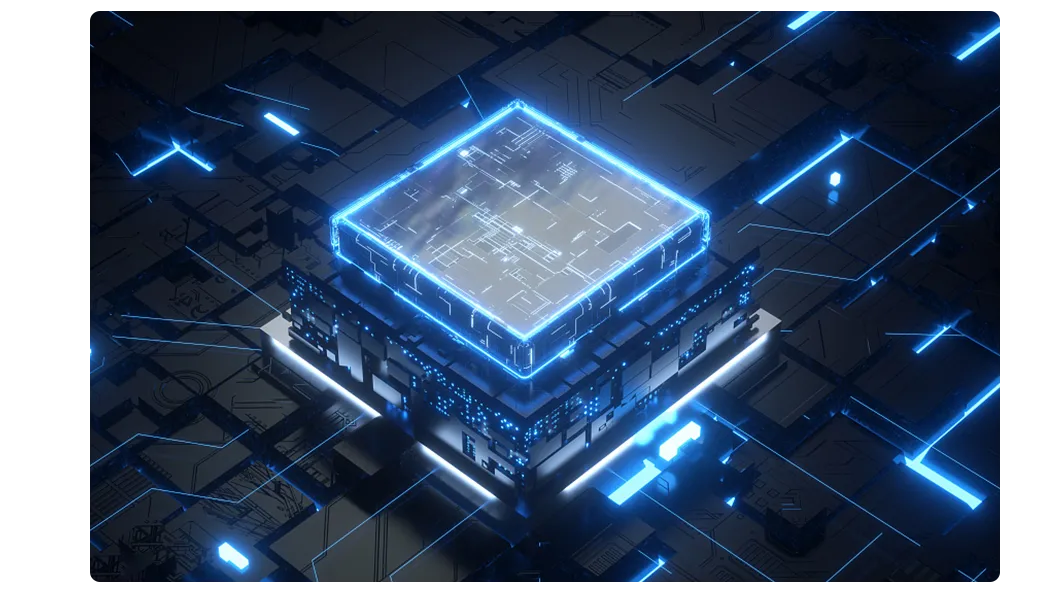 GAZE TO START
Understand All of Your Eye Expression
The camera dynamically captures human behavior; Gaze at the camera to start the machine;
Gazing confirmation mechanism is added to avoid the wrong startup of the machine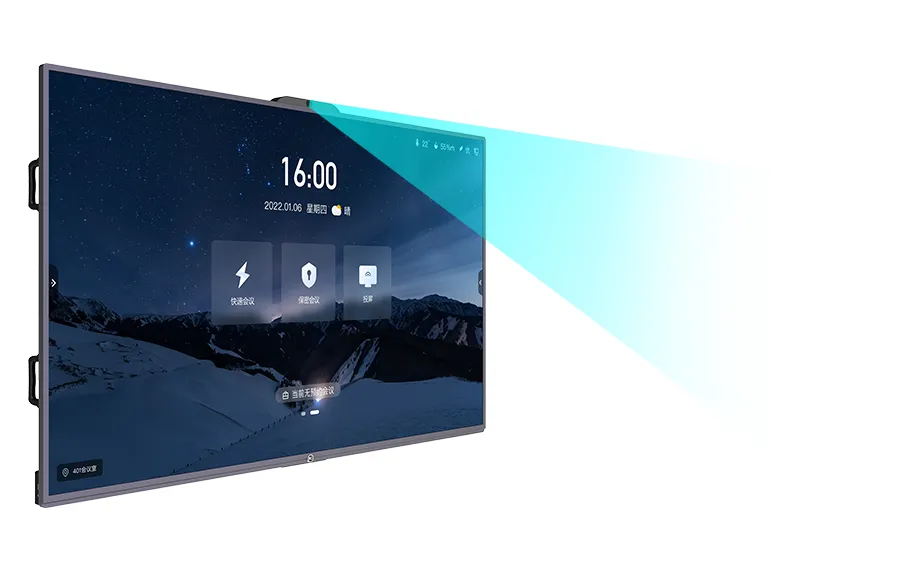 HYBRID SPLIT SCREEN
One Screen with Multiple Use
With patented hybrid split-screen technology,
support simultaneous display of whiteboard, video, documents, screen projection, etc;
support writing annotations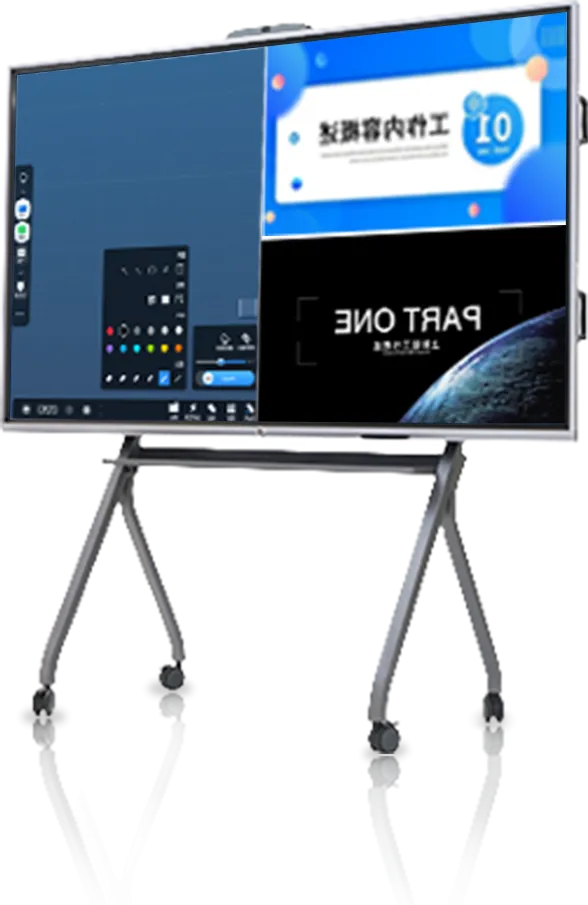 Product Detail
Model

TV-X8175

TV-X8186

TV-X8198

Processor

I3-1135G7<Turbo-4.2G>

System version

Windows 10 IoT

RAM

8GB

Storage

128GB

Screen type

DLED LCD display

Screen size

75 inches

(

16:9)

86 inches(16:9)

98 inches(16:9)

Screen display size

1895V x 1066H

Physical resolution

3840(H)×2160(V)

Color gamut NTSC

85%

Display color

1.07B(10bit)

Brightness

350CD/㎡(min.)  400CD/㎡(typ.)

Contrast

1200:1(typ.)

Anti-blue light

Support

Glare

Support

Frame rate

60Hz

Color degree/color depth

1.07B (10bit),10.7 billion colors

Viewing angle

178°(H/V)

Camera type

Magnetic camera, pluggable, plug and play

Camera pixel

1200W

Maximum field of view angle

105°±5°

Horizontal field of view angle

90°±5°

Lens focusing

Autofocus

Angle adjustment

15° downward adjustment

Low illuminatio

New CMOS image sensor, application of noise reduction algorithm to greatly reduce image noise, image noise ratio ≥ 55dB

Drive standard

UVC/UAC national standard

Camera Module Dimensions (L×W×H)

292mm×41mm×31mm

Microphone pickup distance

10m

Input interface

1*LAN; 1*TOUCH; 1*HDMI-IN; 1*DP-IN; 1*VIDEO-IN (USB-C+reverse control); 1*LINE-IN; 1*MIC-IN; (gen3 10G rate);

1*USB-C (gen3 10G rate); 1*RS232; 2*IO; 2*RELAY

Output Interface

1*HDMI-OUT;1*LINE-OUT;

Touch sensing technology

Infrared induction recognition touch technology

Maximum input points

40 points

Response time

8ms(typ.)

Writing method

Opaque objects such as fingers, touch pens, etc.

Writing height

2.0mm

Touch Accuracy

The middle 90% touch area is ±1mm

Two-point identification distance

>20mm

Theoretical clicks

Unlimited

Touch diameter

Single point ≥ 1.6mm, multi-point ≥ 2mm

Glass Specification

3.2mm tempered glass

Writing screen surface hardness

7H

Interpolation resolution

32768 × 32768

Operating voltage

DC 5V±5%

Power

≤2.5W

WiFi

2.4GHz and 5GHz

Power supply

90-264V~50/60HZ input

Standard power consumption

≤460W

Standby power consumption

<0.5W

Audio channel

2.2 channel

Sound power

2*16W @ 4Ω+2*16W @ 4Ω

Storage temperature

-10℃~+60℃

Storage humidity

10%~80%RH,no condensation

Working temperature

0℃~+40℃

Working humidity

20%~80%RH,no condensation

Working altitude

≤5000m

Bare metal size (L×W×H)

1717.3mm ×98.2mm × 1011.3mm

1962.6mm ×102.1mm × 1149.4mm

2231.3mm ×122.2mm × 1302.8mm

Package size (L×W×H)

1880mm × 225mm × 1160mm

2095mm × 225mm × 1310mm

2525mm × 435mm × 1750mm

Display size

1651.6mm × 929.9mm

1895mm × 1066mm

2160.8mm × 1216.4mm

Thickness

98.2mm

102.1mm

122.2mm

Net weight

55kg

75.4kg

117kg

Gross weight

69.5kg

90.8kg

143kg

Shell color

Aurora purple

Shell material

Aluminum Profile/Sheet Metal
itc Headquater

Building NO. A13-1, Yiku Industrial Park, The Hills, Dongyi Road, Panyu District, Guangzhou, China 511492

itc Factory

NO.19 Chuangyuan Road Zhongcun Town, Panyu District, Guangzhou, China

Email itc

Call itc