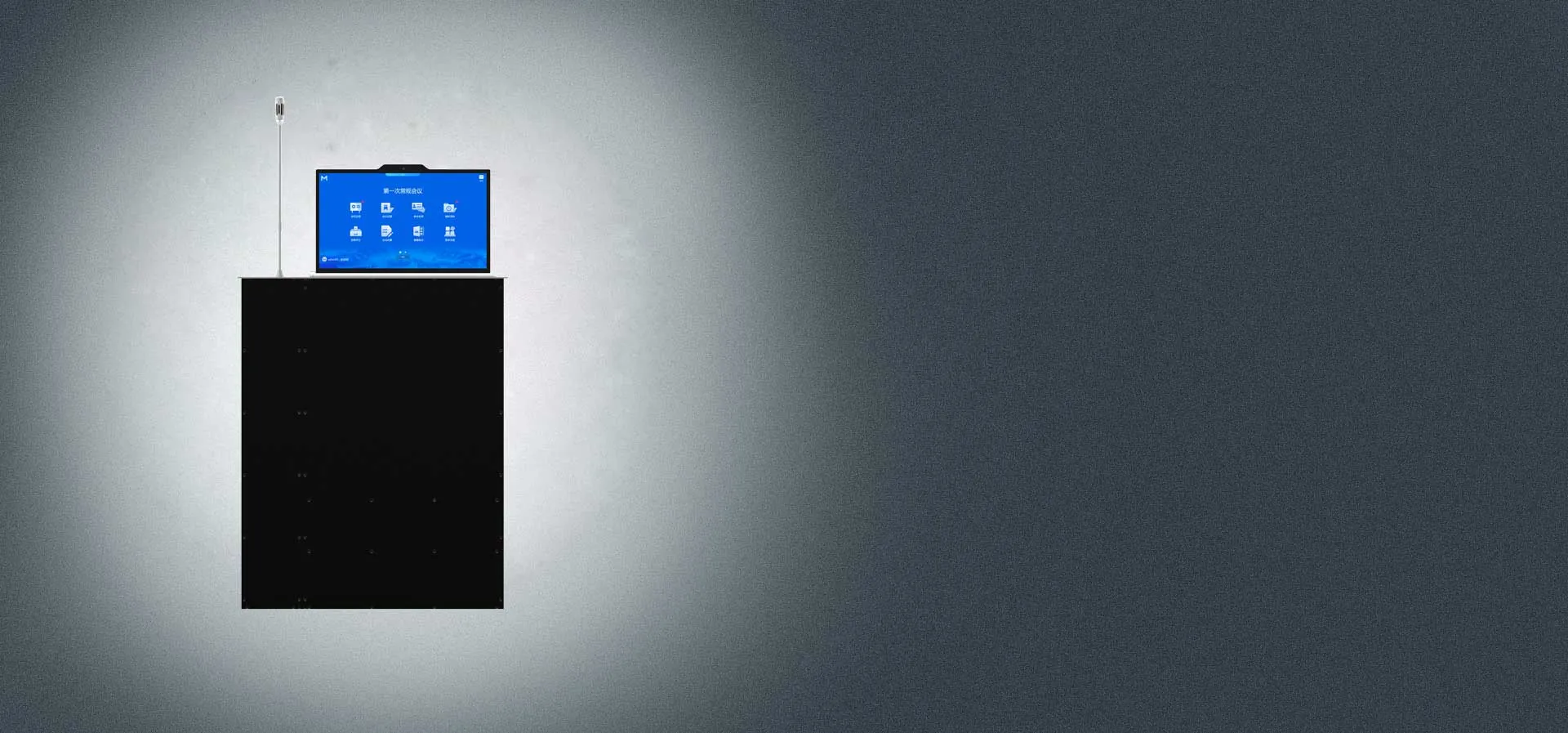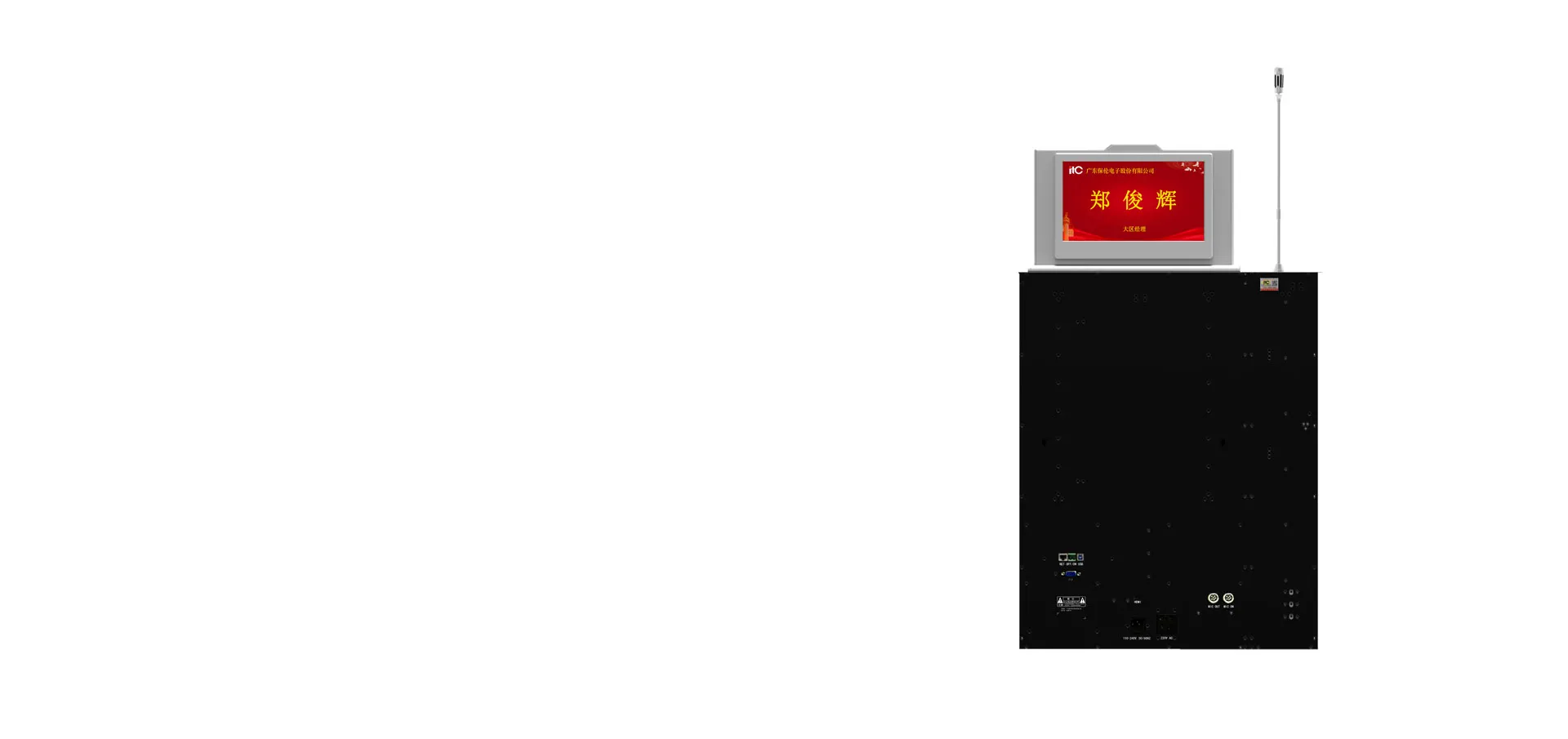 The integrated design of the touch ultra-thin high-definition display screen and the lifter, no exposed connecting wires, no connection backplane, and no exposed screws.
Integrated lifter with microphone; the microphone supports automatic straightening function, when the mic pole is bent, it can be automatically straightened to avoid damage to the mic
Using an all-aluminum structure, high-quality aluminum material and CNC engraving processing, the display frame and cabinet are made of aluminum alloy, making the device as a whole light and neat.
The surface of the device is anodized with bright color.
The device panel is only 3mm thick and 80mm wide, taking up little space.
The touch panel is made of 1mm thick acrylic plate, with four touch buttons: Up, Down, Pause and Power.
Adopt steel synchronous pulley and high-precision linear guide rail, and use a deceleration motor as driving power to realize lifting operation, stable and quieter.
Adopta 15.6-inch high color gamut ultra-thin LCD touch screen with a resolution of 1920*1080P, and the display effect is clear and bright.
The rear screen is an 11.6-inch LCD screen, which is used as an electronic nameplate
With an 8-megapixel camera, it can be used to collect and identify personnel information in meetings.
The panel supports up to 15W wireless fast charging.
Product Detail
Model
TS-86156X
Main screen
Touch screen
Support
Camera
800W
Wireless charging
Support 15W maximum
Touch button
Support
Lifting time
28S
Elevation angle
0-30°, fully ergonomic, without blocking sight and face
Cabinet size
538.2*66*677mm
Panel size
555*80*3mm
Lifting window size
388*25.4mm
Desktop opening size
541*68mm (Recommended physical opening)
Panel sinking size
556*81*3mm (L*W*T) (Recommended physical opening)
Working environment
-20℃~50℃, RH≤70%
Screen size
15.6″
Aspect ratio
16:9
Resolution
1920*1080
Video interface
HDMI
Control interface
RJ45
Backlight type
WLED, 15K hours, with LED driver
Contrast
600:1
Brightness
300cd/㎡
Viewing angle
45/45/20/40(Typ.)
Display thickness
9.7mm
Power supply
AC 220V 50-60/HZ
Power consumption
>25W
Total weight
14kg
Rear screen
Screen size
11.6 inches
Touch screen
Not support
Resolution
1366*768
Aspect ratio
16:9
Video interface
VGA
Contrast
800:1
Brightness
250 (Typ.)
Working environment
Working temperature: 0 ~ 50℃; Storage temperature: -20 ~ 60℃
Working frequency
60Hz
Viewing angle
89/89/89/89 (Typ.) (CR≥10)
Screen type
IPS screen full viewing angle
Power voltage
3.3V
Signal system
eDP (1 Lane), terminal, 30 pins
Microphone
Microphone type
Cardioid Electret Microphone
Frequency response
80Hz-16kHz
Input impedance
680Ω
Sensitivity
-41±1.5dB (0dB=1V/Pa,at 1KHz)
Max SPL
120dB
SNR
>80dB
THD
<0.1%
Power consumption
2W
itc Headquater

Building NO. A13-1, Yiku Industrial Park, The Hills, Dongyi Road, Panyu District, Guangzhou, China 511492

itc Factory

NO.19 Chuangyuan Road Zhongcun Town, Panyu District, Guangzhou, China

Email itc

Call itc