International Convention Center WiFi Conference System Solution
Learn about itc WiFi conference products and entire solutions for International Convention Center.
The international Convention and Exhibition Center is a business place that gathers domestic and foreign enterprises for product display and exchange, opening the channel for domestic brands to go to the world; External display of the national comprehensive level of science and technology and service level. In the business conference communication of the convention center, the construction of a traditional wired hand-in-hand conference system is difficult, and it needs to be extended from the host to the conference room, and the project cost is high. The seat unit position is fixed; Maintenance is inconvenient. It is difficult to meet the intelligent and humanized operation of the flexible layout of the venue and the rapid meeting.
itc wireless conference system can realize the transformation of conference room, multi-function hall, on-site briefing hall, temporary meeting hall and so on without destroying the site layout, and can quickly build and move the temporary meeting application function of the conference system. Under the premise of not changing the original facilities of the convention center, itc wireless conference system adopts the digital network of wireless information transmission within the local area to accurately, quickly and safely transmit the conference information to the participants, constructing a safe exchange environment for smooth information transmission and presenting an intelligent, efficient and informationized convention center image for the participants of all countries.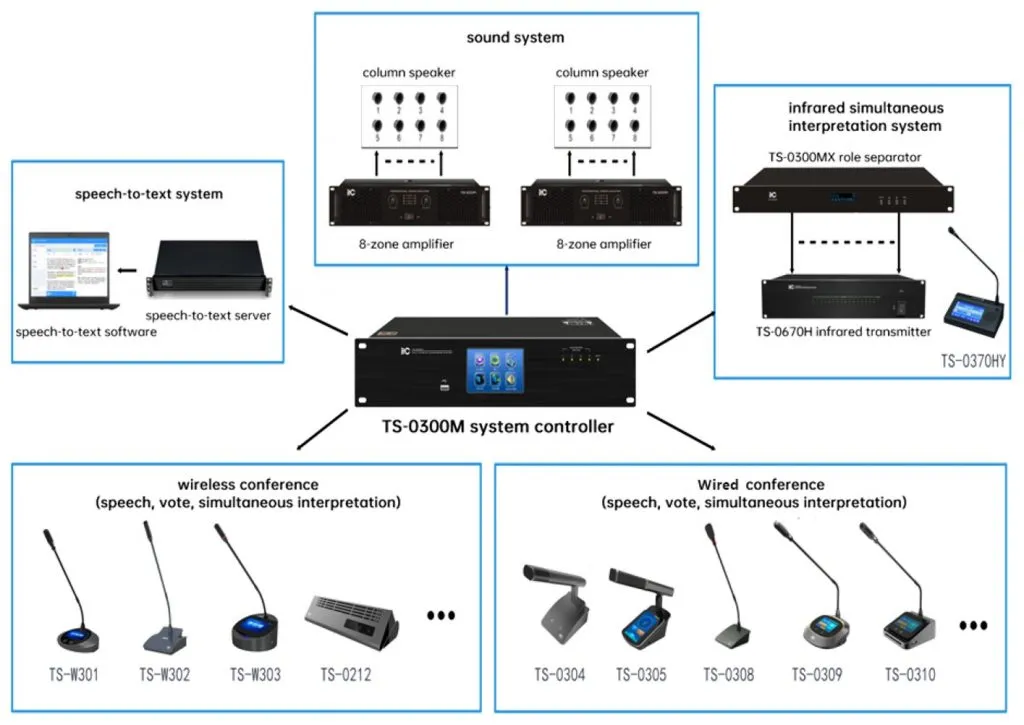 Achieve Effect
The WiFi wireless conference system can adapt to the needs of the real-time change of the venue layout of the convention center. The wireless installation will not damage the original decoration of the venue. Access at any time, anywhere, fast layout, a few minutes to complete the preparatory work, save the waiting time of participants, immediately join the meeting; System maintenance is convenient, no wire maintenance problems, easy to manage. To provide strong technical support for the efficient development of brand exhibition and communication, and build a high-end international office venue.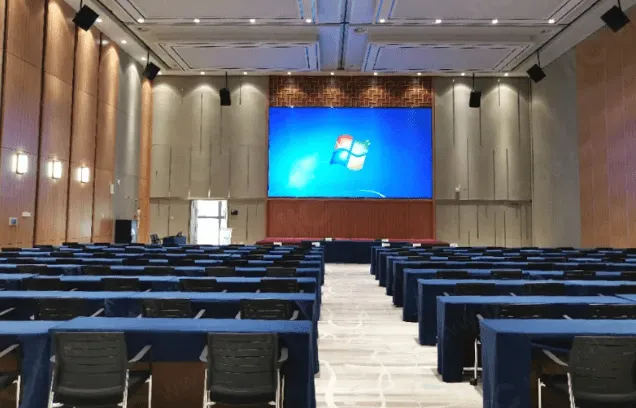 New Conference System Advantage
The New conference system is a system developed based on dual ARM processor platform, which has super processing capability. It supports various audio output modes including 16-zone grouping phase control sound reinforcement, simultaneous interpretation, phase control output, and role separation mode, so as to achieve multiple functions. It supports a 5G WIFI microphone connecting to speech-to-text device and can support a maximum of 128 channels simultaneously. In addition, it supports both circular dual-link backup and digital-analog backup to ensure the stability of system.
Rich conference functions, perfect speaking unit and an independent communication frequency band ensure clear communication, security and confidentiality of business information.