itc Intelligent Interactive Flat Panel Make Meetings Efficient
Intelligent interactive flat panel solution is mainly based on the interactive meeting tablet, with accessories such as stylus and screen sharing transmitter.
Traditional meetings are limited by time and space. Venues cannot communicate with each other in real-time, resulting in communication inconvenience and lack of information.
The intelligent interactive touch screen integrates presentation, electronic whiteboard, multi-party interaction, fast sharing and other meeting applications, breaking the complex operation of traditional meeting equipment, and realizing an efficient meeting method.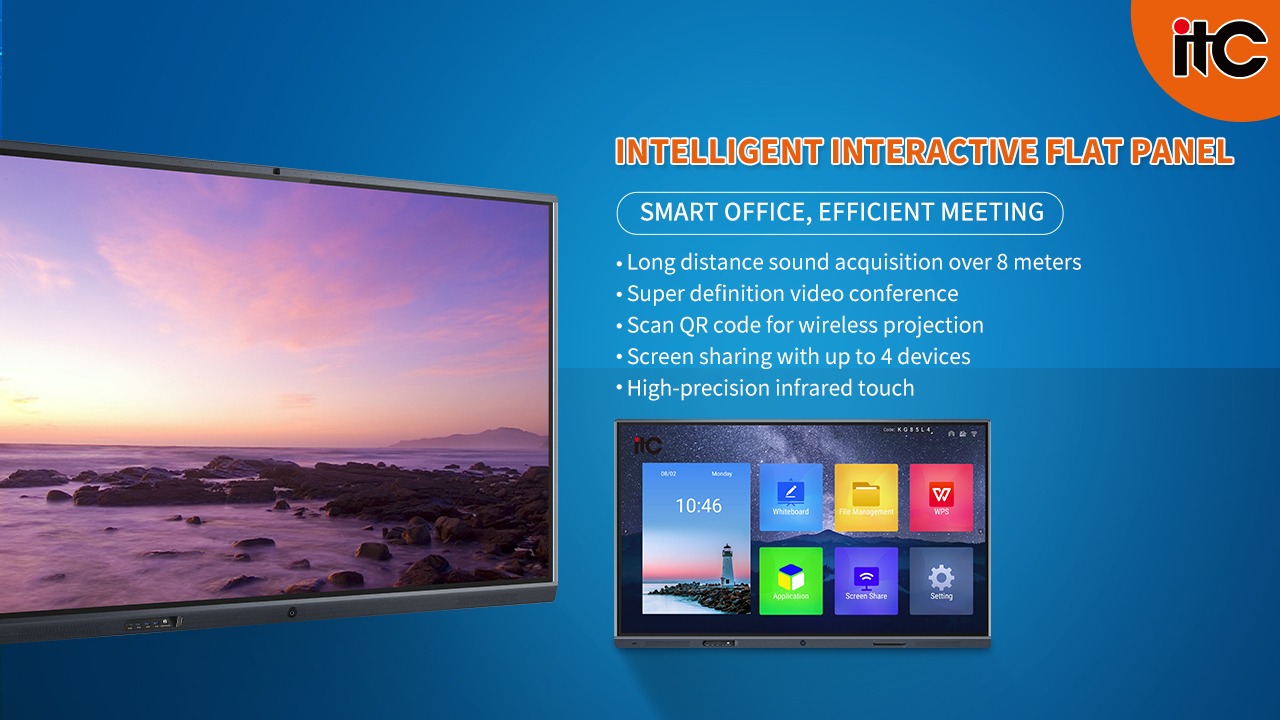 High-precision infrared touch
Adopting high-precision infrared touch technology, 3.5mm writing height, response speed less than 15ms, smooth writing and sensitive touch.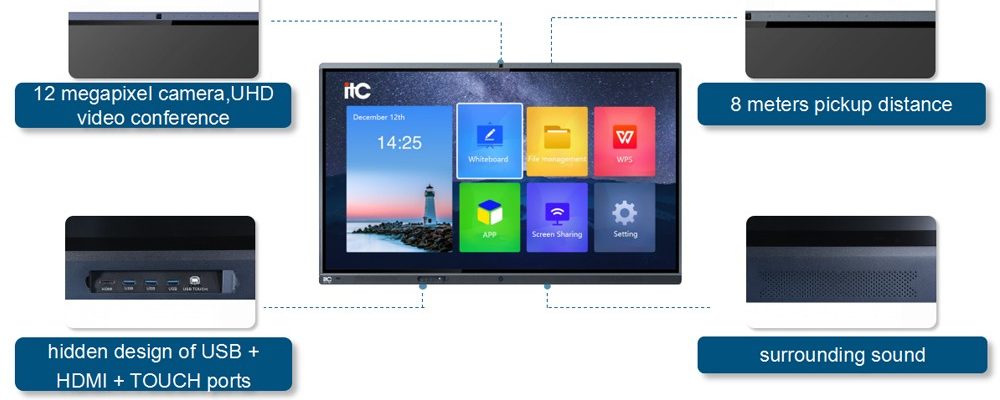 Dual system for fast switching
Intelligent interactive touch screen has built-in Android and windows dual system, which can be quickly switched, making the meeting application more convenient to operate.

Electronic whiteboard:High-precision touch, free-roaming, up to 20 pages
Voting: On-site election, conference voting, multiple choice, etc.; can easily edit the voting QR code on the spot; support anonymous voting, single selection, multiple selections. Participants scan and vote on-site, and the voting rate, pie chart and histogram will be automatically generated. The results can be inserted into the electronic version for on-site publicity, archive or sharing.
Screen recording: no need to make meeting minutes, efficient interaction, clear recording and no echo.
Fast file transfer: without downloading any auxiliary software, you can upload pictures, files, audio and video by scanning the QR code.
Fast file transfer: without downloading any auxiliary software, you can upload pictures, files, audio and video by scanning the QR code.

Remote video conference:
Built-in camera and microphone, realize remote video conference, remote screen sharing, writing synchronization and other functions through cloud conference, which greatly improves the efficiency of cross-regional work and saves costs.
Note: It needs to be used with OPS computer + HD video conference cloud service platform / HD video conference communication multipoint control unit MCU (VCS8000)
Wireless Projection
The intelligent interactive tablet displays the projection code and the QR code in the upper right corner of the screen, and any device can achieve fast screen projection.
Four-screen display
Support multiple devices, (whether it is a mobile phone, tablet, or computer), displayed on the screen at the same time. Four-screen display can compare data more clearly.
Two-way control
The computer can be reversely controlled on the meeting tablet, and the meeting tablet can also be directly controlled by mobile phones and tablets to write, endorse, and file presentations to achieve two-way flexible interaction.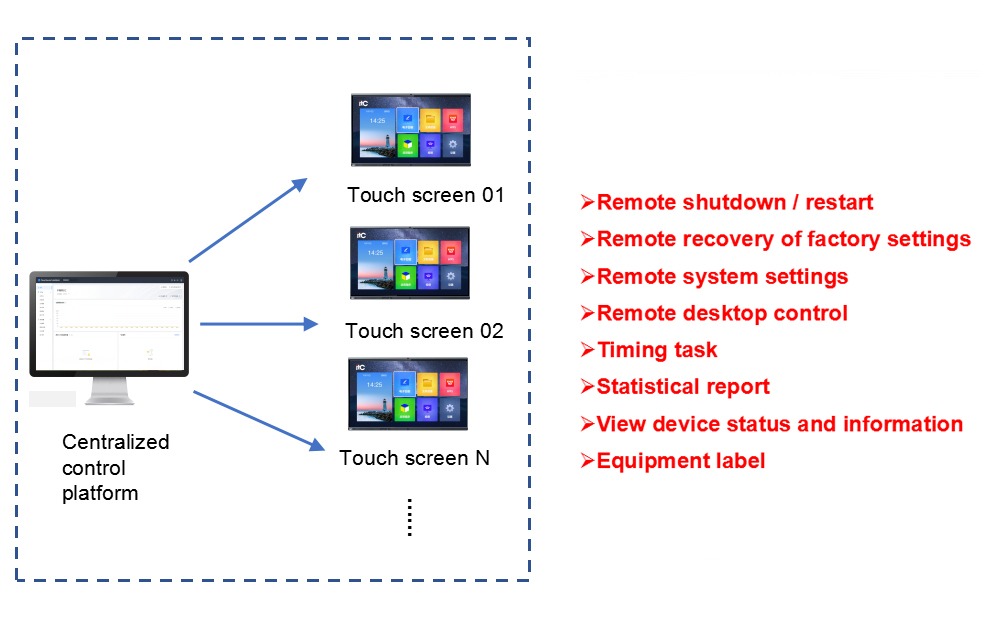 Choose itc Intelligent Interactive Flat Panel from multiple sizes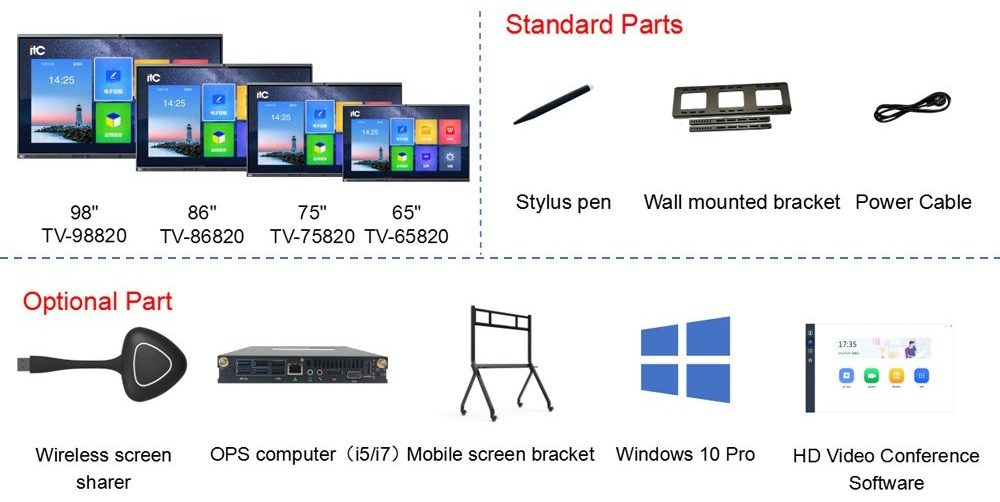 Intelligent Interactive Flat Panel Application