The 3rd Middle School Stadium in Kunming City, Yunnan Province, China
We have just finished our sound reinforcement system in Kunming's third Middle school. As the leading audio system provider in China, we have completed thousands of stadium projects like this.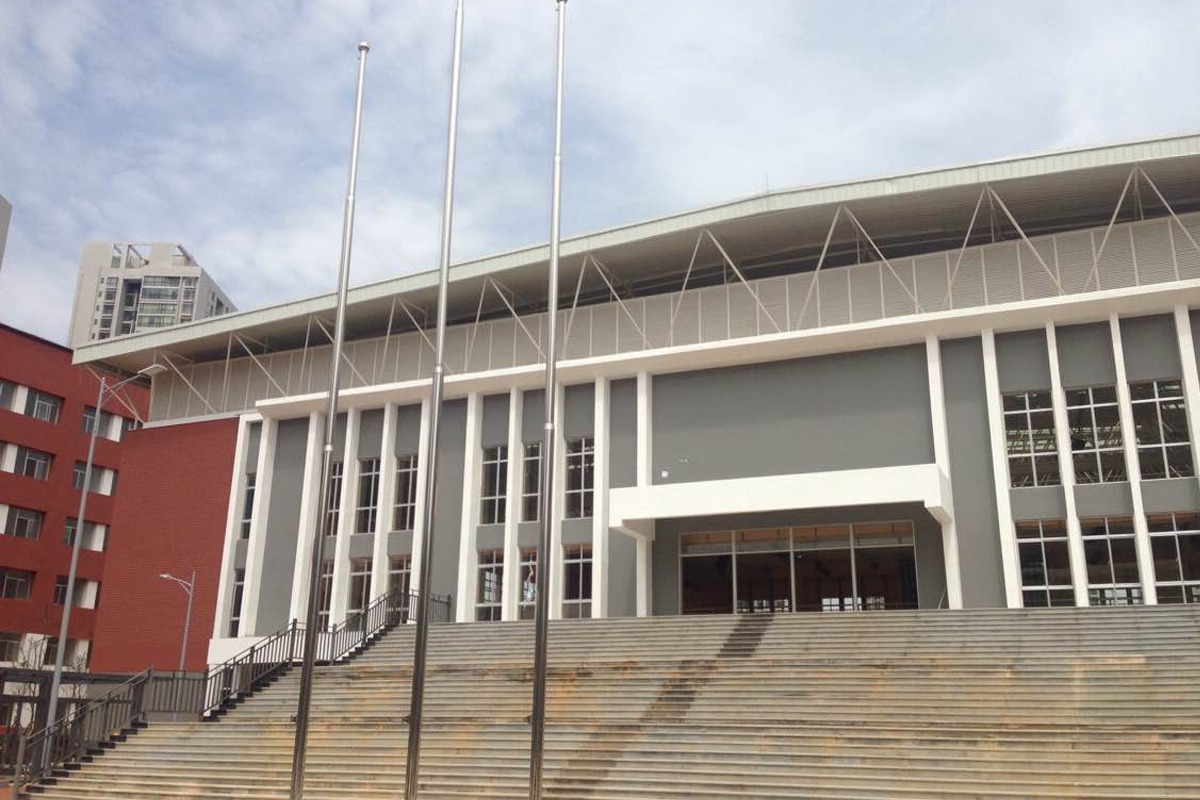 The stadium is 2500 square meters have 1500 seats and are mostly used for holding large Sports event and Athletic competition, also the school wants to hold some major performance like anniversary celebration, new year show.
The system we design takes into consideration what the user needs, what effect must achieve and detail as to where to hook the speaker and how much weight can it take.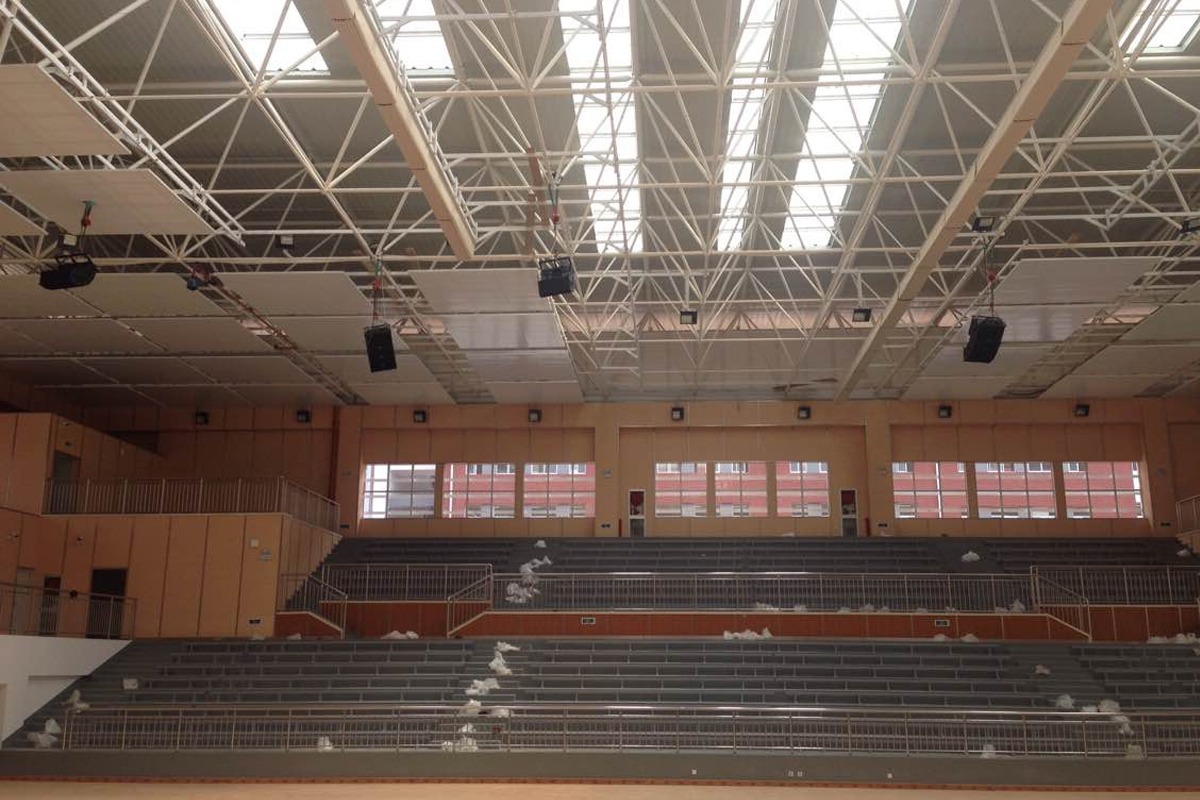 In the central area, we have 4 mainline array speakers, 1 pair facing south another pair facing north. Each line array is constituted of three 6-inch 150W active speakers and one 18-inch 350W woofer.
We also design 6 line array similar to the central area line array but without the woofer in the Auditorium, combining a three-line array as one pair, one pair facing south, one pair facing north.
The audio source includes 1 DVD and 1  HD recorder, according to the requirements we install 8 Gooseneck table MIC in the rostrum plus 4 Wired Handheld Microphones and 2 wireless microphones. Satisfy the need of music and Tournament coverage.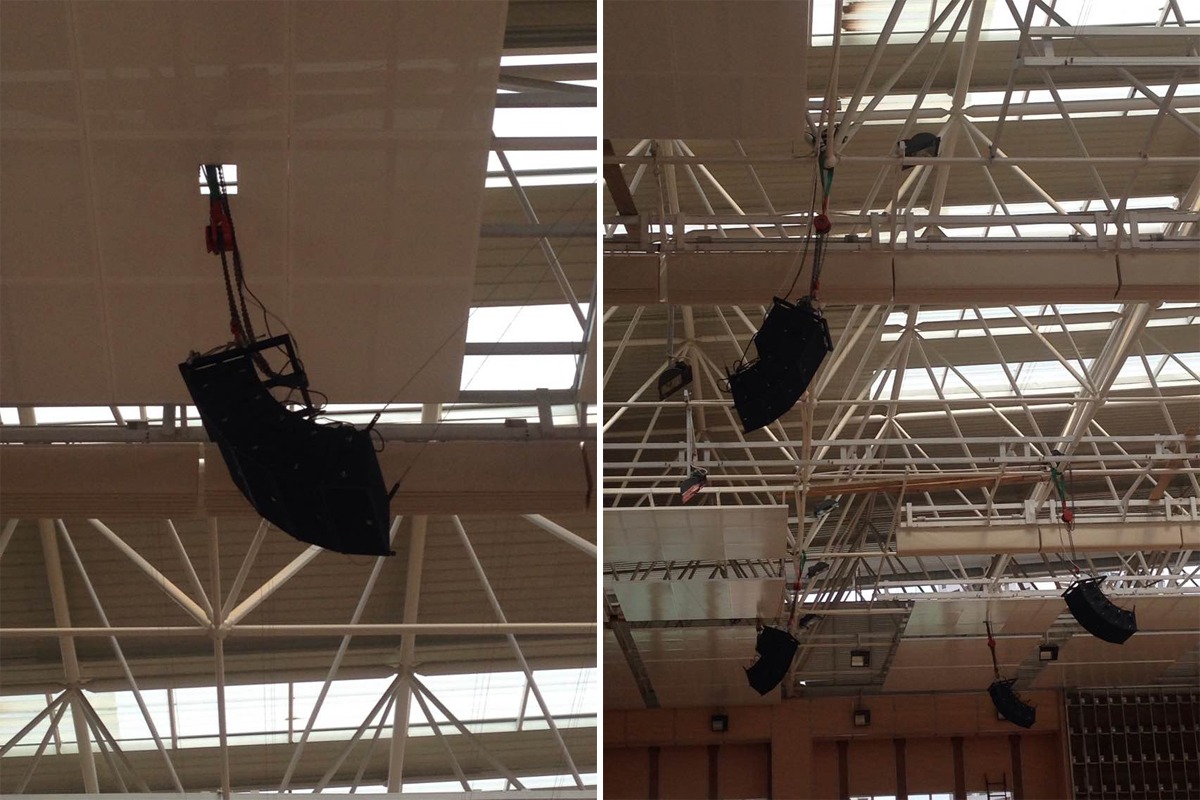 For audio signal processing, we use our 24 Channel Audio Mixer, 16 Mono input channels, 4 Stereo input channels, 2 return input channels, and 4 AUX output channels. And 8 Input and 8 Output Digital Audio Matrix Processor TS-P880, this model is the best audio matrix and signal processor of ITC.
| | | |
| --- | --- | --- |
| Products | Quantity | Model |
| Wireless hand-held MIC | 2 | T-521UH |
| Collar Wireless MIC | 2 | T-521UL |
| Desktop MIC | 8 | TS-337 |
| Wired Hand held MIC | 4 | TS-331 |
| Logarithmic Directional Antennas | 1 | T-522B |
| Active Line Array Loudspeaker | 4 | LA-1200P |
| Active Line Array Loudspeaker | 12 | LA-2650P |
| Active Line Array Loudspeaker | 30 | LA-2650P |
| Professional Speaker | 2 | TS-112H |
| Professional Speaker | 1 | TA-H12 |
| 24 Channel Audio Mixer | 1 | TS-24P-4 |
| Digital Audio Matrix Processor | 1 | TS-P880 |
| 8 Channel Stereo Signal Distributor | 2 | TS-205 |
| 8 Channel Power Sequencer | 2 | TS-820 |
| 6 inch Wall Mount Active Speaker | 1 | T-776A |
Related Products
Contact Us